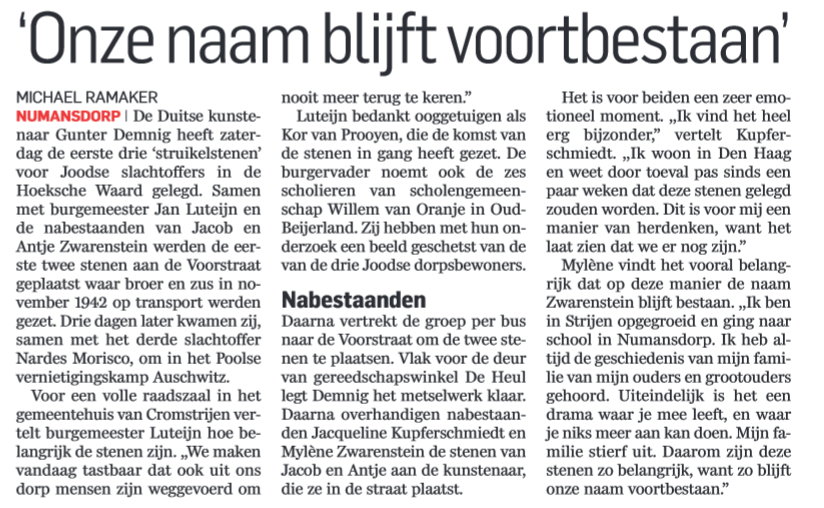 "Our name will continue"

Michael Ramaker

Numansdorp | Saturday, the German artist Gunter Demnig laid the first three 'trippingstones' for Jewish victims in the Hoeksche Waard. Together with mayor Jan Luteijn and surviving relatives of Jacob and Antje Zwarenstein, the first two stones were placed in the Voorstraat, where brother and sister were put on transport in november of 1942. Three days later they were, together with the third victim Nardes Morisco, killed in the Polish death camp Auschwitz.

In front of a packed city council chamber in the municipality of Cromstrijen, mayor Luteijn explaines the importance of the stones. "Today we are making tangible that also from our village, people were deported as to never return."

Luteijn thanks the eyewitnesses like Kor van Prooyen, who started the process for the stones to come. The mayor also mentiones the six students from the scholengemeenschap (school red.) Willem van Oranje in Oud-Beijerland. With their research they painted a picture of the three Jewish fellow villagers.



Surviving relatives
After this, the group leaves with the bus to the Voorstraat to place the two stones. Right in front of the door of the toolshop De Heul, Demnig lays out the tools for the brickwork. Then the surviving relatives, Jacqueline Kupferschmiedt and Mylène Zwarenstein, hand the stones for Jacob and Antje over to the artist, who places them in the street.

It's a very emotional moment for both. "I think it is very special", says Kupferschmiedt. "I live in The Hague and only by coincidence I've known since a few weeks that the stones were to be placed. For me this is a way to remember, because it shows we are still here."

For Mylène it is especially important that the Zwarenstein name continues to exist in this way. "I grew up in Strijen and went to high school in Numansdorp. I have always heard about the history of my parents and grandparents. In the end it is a drama which is part of my life, something I can't do anything about. My family was almost extinct. That's why these stones are so important, in this way our family name will continue to exist."